Signing Ceremony for the Establishment of "CU - TMDU Research and Education Collaboration Center" in Thailand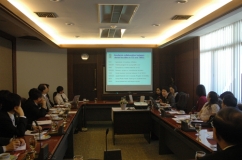 Tokyo Medical and Dental University (TMDU) and Chulalongkorn University (CU) agree to cooperate in a spirit of mutual understanding and goodwill and to strengthen their ties of friendship, through a long history of close mutual cooperation. Therefore both universities agree to establish a TMDU overseas office at CU which will serve to promote academic collaboration and scholarly exchange between the two institutions more actively.
Yoko Kawaguchi, DDS, PhD
Professor
Oral Health Promotion, TMDU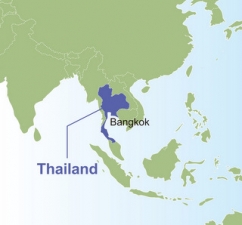 On November 23, 2009, a signing ceremony for establishing the "CU - TMDU Research and Education Collaboration Cen-ter" was conducted at the Head Office Building of CU main campus, Bangkok, Thailand. 12 members from TMDU visited CU and attended the ceremony. Prior to the ceremony, all the delegates from each institution in TMDU participated in the seminar and introduced various research and education activities to the CU executives, using DVD and slides. All the members discussed and explored the possibility of future collaborative research projects with related institutions between TMDU and CU.
In the signing ceremony, Professor Ohyama, President of TMDU, made a speech in fluent Thai language. He explained the background, purpose and expected roles of TMDU office. He also appreciated the great support and kind cooperation of the CU members. He concluded that the TMDU office will definitely contribute to promote the future academic collaboration between two universities. All the Thai participants were surprised at his warm and sophisticated messages, as his Thai pronunciation was perfect. After the two presidents' speech, Professor Takashi Ohyama, and Professor Pirom Kamolratanakul (President of CU) signed the memorandum of understanding between the two universities for the establishment of the TMDU office".

TMDU office "CU-TMDU Research and Education Collaboration Center" is planning to set up in the Dental Faculty Building, as there has been a long history of agreement-based collaboration between two dental faculties. In 1991, dental facul-ties in TMDU and CU agreed to sign the academic affiliation. Since then lots of collaborative projects such as "Training program for young staff in CU", "Research project on maxillofacial disorders", "Japan/Thailand Core University Program in Dentistry", "Dental Public Health Training for Southeast Asia", and "Young researchers exchange program" have been conducted both in Japan and Thailand. About 20 years history of academic collaboration between two dental faculties contributed to the mutual understanding and good academic relationship.

Among 29 dental schools in Japan, TMDU accepted the highest number of international students into the PhD program in the field of dentistry. Up till now there have been a total of 86 Thai students who studied in TMDU and received PhD degree in dental sciences. These TMDU alumni members are the precious human resources to establish dental health care network between Japan and Thailand. Because they know two countries' dental situations and also they can speak both Japanese and Thai language. At present about 20 TMDU alumni dentists (PhD holders) are now working as academic staffs of Faculty of Dentistry in CU. TMDU offers the continuous support for these alumni members and conduct some joint research, after they go back to Thailand.

Through these close mutual academic cooperation in dental field, Associate Professor Wacharaporn Tasachan (Dean, Fac-ulty of Dentistry, CU) kindly offered us the space for TMDU overseas office in the 11th floor of Dental Faculty Building, Chulalongkorn University.
| | |
| --- | --- |
| ・ | Information center of TMDU research and education activities |
| ・ | Support and selection of international students (interview examination) |
| ・ | Support and selection of exchange scholars / students |
| ・ | Support of joint research projects |
| ・ | Support of joint teaching projects : educa-tion (undergraduate / post graduate course) |
| ・ | Support of joint conferences |
| ・ | Establish and maintain a health care network |
| ・ | Support of TMDU alumni members |
| ・ | Support of joint cultural programs etc. |
TMDU appointed Dr. Atiphan Pimkhaokham as a coordinator of this center. He finished the PhD program at TMDU and is now the Assistant Professor and Vice Dean in Planning & Development and IT, Faculty of Dentistry, CU. We believe this center will serve to promote academic collaboration and scholarly exchange and facilitate and up-grade research development, health service delivery and education techniques between the two institutions.

This center is the 3rd overseas office of TMDU, following Ghana and Chile, and the first overseas office in Southeast Asian Region. We will commence the collaboration activities in the field of dentistry in Thailand through this center. We will then expand the collaboration countries in Southeast Asia and include medical disciplines in future years. This center will contribute to the establishment of heath care networks as well as an international research and education center in Southeast Asia.