TMDU x Mahidol University Discussion Café on June 9, 2020
On June 9, 2020, a two-hour Discussion Café (D-Café) kicked off at 18:00 Japan time between TMDU students and medical students at Thailand's Mahidol University, with which we have an Academic Collaboration Agreement.

Coordinated with affiliated universities in and beyond Japan, D-Café events are a great opportunity for students from various cultural and educational backgrounds to come together and delve into solutions to complex global health issues in English.

With the COVID-19 pandemic precluding international study and overseas travel in general, D-Café this time used Web conferencing to network with students overseas and access a range of cultural and disciplinary perspectives. As Web conferencing effectively removes the distance barrier, Thailand's Mahidol University was selected firstly as an institution with which TMDU has a close student and researcher exchange relationship, and secondly because the geographical (longitudinal) proximity made it easier to arrange a time.

Fifteen TMⅮU and 15 Mahidol University students in their second through sixth years took part in the event. After introducing their universities and themselves, the students broke into mixed groups of six members to examine three COVID-19 response topics. Lecturers from both universities listened with interest to the lively student-led group discussion, presentation of results, and general debate. It was undoubtedly a very stimulating experience for all the students involved.

The success of this D-Café event even amidst a global pandemic was thanks to advances in telecommunications technology and the long history of exchange between our two universities, along with students' passion and commitment to resolving international issues through cross-cultural collaboration. It was also an extremely valuable experience in terms of planning further exchanges with universities in Japan and overseas at a time when we don't really have the option of going to meet face to face.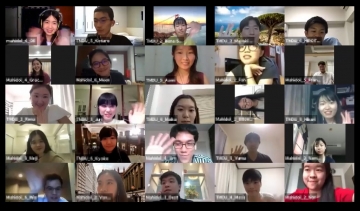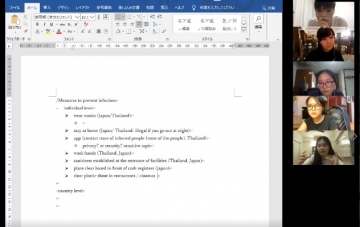 Discussion Café