International Exchange Program Between South Korea and Japan (11-12 May)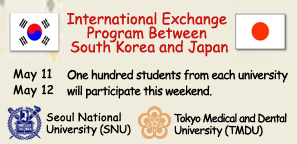 We are very glad to host an International Exchange Program between South Korea and Japan, namely "Tokyo Medical and Dental University (TMDU) ×Seoul National University (SNU)", at TMDU.
1. Outline of the Program
This program is held pursuant to the Memorandum of Understanding between Seoul National University and Tokyo Medical and Dental University. Students in each university's Faculty of Medicine are taking part in this program, which has the purpose of encouraging international exchange and communication. One hundred students from each university will participate this weekend.
On the first day, we will have small group discussions and presentations from participants. After that, we will introduce the culture of each country.
First Day Program Schedule (May 11)
13:00~13:45 Opening Ceremony
14:00~15:00 Student Exchange Discussions
15:15~16:00 Student Exchange Presentations
16:15~17:30 South Korean and Japanese Cultural Show
18:00~21:00 Welcome Party
On the second day, we will visit various sites around Tokyo to enable further cultural exchange between the participants.
2. Dates and Times
May 11, 2013 13:00~21:00
May 12, 2013 Sightseeing in Tokyo (all day)
3. Venue
Tokyo Medical and Dental University (Yushima campus)
Akio Suzuki Memorial Hall, M&D Tower, 2F
Faculty Lounge, M&D Tower, 26F
4. Contact
To learn more about this program, please contact:
Tomoki MIHARA or Tomomi SAITO
Public Relations Section, Tokyo Medical and Dental University
Tel: 03-5803-5833 / Fax: 03-5803-0272
May 11
■ Reception (12:00~13:00)
■ Opening Ceremony (13:00~13:45) Akio Suzuki Memorial Hall, M&D Tower, 2F
13:00~13:05 Opening Movie
13:07~13:10 Greeting, President of Tokyo Medical and Dental University
13:12~13:15 Greeting, Consul, Embassy of the Republic of Korea
13:17~13:20 Greeting, Dean, Faculty of Medicine, Tokyo Medical and Dental University
13:20~13:23 Greeting, Representative of Seoul National University
13:25~13:40 Welcome Performance (Awa o-dori, a traditional Japanese dance)
13:40~13:45 Closing
13:45~14:00 Move to Building 3
■ Student Exchange Discussions (14:00~14:45) Hall, Building 3
14:00~14:15 Origami Workshop (paper folding demonstration and practice)
14:15~14:20 Explanation of the Small Group Discussions
14:20~14:45 Small Group Discussions
14:45~15:00 Move to Akio Suzuki Memorial Hall, M&D Tower, 2F
■ Student Exchange Presentations (15:00~15:40)
One-minute presentation by each group
Break (15:40~15:50)
■ South Korean and Japanese Cultural Performances (15:50~16:55)
15:50~16:10 Japanese Cultural Performance by the Taido Club (karate)
16:10~16:25 South Korean Cultural Performance (K-pop performance by SNU students)
16:25~16:55 South Korean and Japanese Exchange Quiz
■ Closing Ceremony (17:00~17:20)
17:00~17:03 Student Greeting, from a Seoul National University representative
17:05~17:08 Student Greeting, from a Tokyo Medical and Dental University representative
17:10~17:15 Traditional Japanese musical performance, Tokyo University of the Arts
17:17~17:20 Official Greeting by the Trustee for Planning and International Exchange, TMDU
■ Commemorative photograph (17:20~17:30)
17:30~18:00 Move to the Faculty Lounge, M&D Tower, 26F
■ Welcome Party (18:00~20:00)
May 12
Tokyo Sightseeing Courses (all groups will end up at Tokyo Tower)
Course 1: Asakusa → Akihabara → Shinjuku & Shibuya → Odaiba → Tokyo Tower
Course 2: Roppongi & Omotesando → Shinjuku → Odaiba → Tokyo Tower
Course 3: Tokyo Disneyland → Odaiba → Tokyo Tower
PDF Download