Advanced Clinical Center for Myopia Commences Full Scale Operations, Provides Comprehensive Myopia Treatment to Children and the Elderly based on the Latest Findings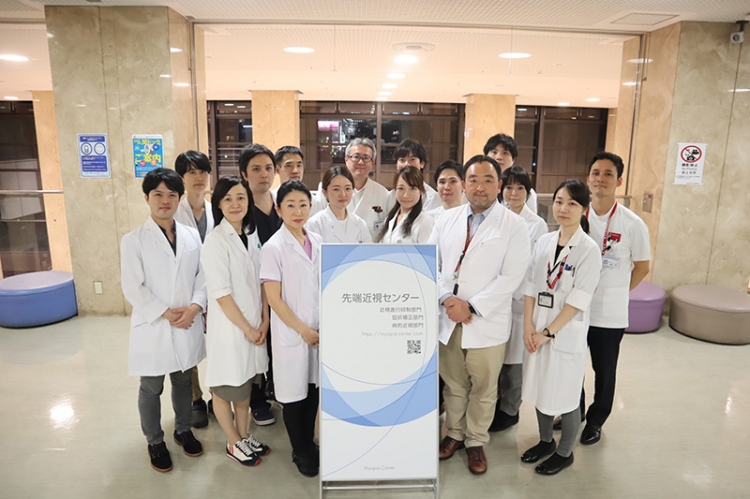 Tokyo Medical and Dental University, Medical Hospital established Advanced Clinical Center for Myopia in May 2019, offering lifelong comprehensive management care to patients with myopia ranging from mild to severe. Media press conferences were held in November 2019, after the Center was fully operational and equipped to provide efficient medical services and management systems. Consequently, Advanced Clinical Center for Myopia was featured on local newspapers and TV.
Advanced Clinical Center for Myopia consists of three major departments: 1) the myopia progression mitigation department that mainly treats the onset and advancement of childhood myopia, 2) the pathologic myopia diagnosis department, where eye complications associated with severe myopia are treated in patients whose condition is already at an advanced stage, and 3) the refractive correction department for improving patients' vision quality to the maximum possible level. With the hospital's long history of myopia diagnosis and its rich clinical experience that is unrivalled anywhere in the world, the Myopia Center's experts will provide comprehensive support to patients with myopia, covering childhood to old age.

【The Background and Significance of Establishment of Advanced Clinical Center for Myopia】
In recent years, the rapid increase in myopia cases has become an issue for concern. It is estimated that half of the world's population will be near-sighted, with 10% severely, by 2050.
Epidemiological research results have shown that even mild myopia accelerates the risk of developing eye diseases that can lead to blindness, such as glaucoma, retinal detachment, and myopic maculopathy, from middle age onwards.
Tokyo Medical and Dental University has the world's largest outpatient clinic specializing in severe myopia and leads the world in myopia treatment.
Treatment will be provided to children to prevent the development and progression of myopia. For patients who have already developed severe myopia, early diagnosis and treatment of further eye complications will be provided.