Noguchi Memorial Institute for Medical Research (NMIMR) and TMDU Research Collaboration on Emerging and Re-emerging Infectious Diseases
Nobuo Ohta, MD, PhD


Professor
Environmental Parasitology, TMDU

Koichi Ishikawa, DVM, PhD


Professor
Molecular Virology, TMDU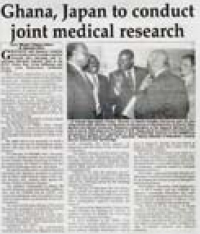 Research collaboration project between Noguchi Memorial Institute for Medical Research (NMIMR), the University of Ghana and TMDU officially launched in April, 2008. This research project is supported by the program of the Ministry of Education, Culture, Sports and Science (MEXT) to promote research on emerging and re-emerging infectious diseases. Under the agreement between the two institutions, TMDU appointed 2 researchers (Virology and Parasitology) to stay at NMIMR in March, 2009, and collaborative research works have started. The launching ceremony, hosted by the Director of NMIMR and the President of TMDU was carried out on August 26, 2009 inviting representatives from the Japanese and Ghanaian Government. Outline of research activities is summarized.
Infectious diseases have raised global concern on human health and welfare since the last decade of 20th century. Not only HIV/AIDS, malaria and tuberculosis, various infectious diseases are emerging and re-emerging any place in the world. It is a serious issue for both developed and developing countries. To overcome the situation, strengthening of research on infectious diseases is essential in Japan, however, we have faced a big barrier. Though infectious pathogens need not to carry passports to pass the border, researchers on infectious diseases are requested to carry passports when they go abroad. Pathogenic microorganisms can be onboard without boarding pass, but researchers have to purchase air-tickets to the destinations. This hinders the smooth implementation of research on infectious diseases. Research center for the collaboration located in Ghana is an important foothold for Japanese researchers in the field of infectious diseases.
NMIMR-TMDU collaboration scheme was established under the MEXT program in 2008, just 80 years after the passing of Dr. Hideyo Noguchi in Accra, Ghana. Launching ceremony was carried out in August, 2009 inviting representatives of the both Japanese and Ghanaian Governments. Under the presence of Deputy Minister of MEXT, Japan, Minister of Education of Ghana, the Ambassador of Japan, Vice Chancellor of University of Ghana and other distinguished guests, launching of the NMIMR-TMDU Research Center was declared. Ghanaian newspapers reported this ceremony and TMDU activities are noticed among bio-medical researchers at University of Ghana.

Researchers dispatched from TMDU to NMIMR to promote leading-edge research on HIV/AIDS and parasitic diseases. To provide information for better antiretroviral therapy (ART) formulation in Ghana, we have evaluated the current ART by determining viral loads, counts of CD4-positive T lymphocytes and mutations that lead to resistance to antiretroviral drugs. The human immunodeficiency virus (HIV) epidemic in Ghana is gradually showing a sign of stabilizing situation two decades after it was identified in 1986 at NMIMR by collaboration with Japanese researchers. The current national antenatal adult prevalence is 2.2% and the estimated adult HIV prevalence is 1.7% (NACP 2008). Antiretroviral drugs have become increasingly available, accessible and relatively affordable in Ghana over the last seven years. The site for collection of blood samples for the project is the Koforidua Government Hospital since Koforidua has a high HIV prevalence rate.

The samples are collected from HIVinfected patients who are on ART at the hospital. The samples are collected on a weekly basis to enhance efficient monitoring of the patient's health. The patient's blood samples are brought to NMIMR for plasma and peripheral blood mononuclear cell (PBMC) separation. The viral RNAs are extracted from each sample and determined for the viral loads by in-house quantitative RT-PCR, since HIV-infected patients on anti-retroviral therapy are expected to have suppressed (low) viral loads. Detected viruses are sequenced using a genetic analyzer and the results are compared with the standard sequences to find any mutations which are likely to cause resistance to antiretroviral drugs. Over 1000 samples have been collected so far in Koforidua and the results show that the majority (above 80%) of the patient's viral loads are well controlled by the ART, however, a few of the patients had mutations that are likely to cause resistance to the ART. A report of these patient' s mutations will be sent to the hospital for better ART formulation. The information about mutations will also be of great help for facilitating diagnosis of drug resistance and planning a second-line ART for Ghanaian patients.

Another Japanese researcher, Dr. Takashi Suzuki is involved in parasitological research. Human African trypanosomiasis (HAT), also known as sleeping sickness, is a life-threatening disease caused by Trypanosoma brucei parasites transmitted by infected tsetse flies. Estimates by WHO suggest that there are 300,000 to 500,000 infected people throughout Africa. In addition 60 million people in Africa continent are at risk of this disease. Currently no vaccine is available. No satisfactorytreatment is available because of severe side-effect and poor efficacy of existing drugs. Thus in this project, we try to find a novel drug target for chemotherapy of this parasitic disease. Tentatively, "movement-related" gene is the target. In sillico selection of "movement-related" gene of trypanosome protozoa, homologues were identified. Knock-down analysis was applied to those genes, and several candidate genes were isolated which are critically related to the parasite survival. Knockdown analysis of one of 'movementrelated' genes caused growth-elimination of Trypanosoma cells, therefore, validity of this gene will be investigated as a target for chemotherapy of HAT.NMIMR-TMDU research project will be expanded to the next five years under the 2nd phase of the MEXT program. Scope of the program is to promote research and development of human resources. TMDU will play a central role to fulfill the responsibility and tight partnership with Ghanaian colleagues leads health and welfare of the people in the two countries through improvement of research capacities of infectious diseases.