Message from the President – 3 Policies of TMDU Research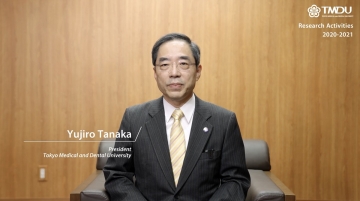 Hello!

My name is Yujiro Tanaka, president of Tokyo Medical and Dental University.

As we all know, 2020 has been the year of COVID-19. The virus has severely infected many people in Tokyo, as well.
Our hospital staff have been on the front lines in this crisis.In addition, our many researchers have assisted in PCR testing to support our hospital staff, while at the same time producing new research and published papers. I'm very proud of the great effort made by so many of our staff at TMDU to help alleviate this severe crisis.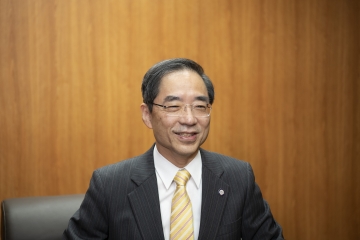 Research at TMDU has 3 key aspects:

First, academic freedom.
This means that our researchers are given the autonomy to conduct challenging, innovative research.

Second, academic integrity.
We make every effort to protect the integrity of scientific research by ensuring the reliability of all published papers.

Third, contribution to Total Healthcare.
The focus of our university is Total Healthcare.
I encourage our researchers to conduct their research always asking whether their research will have a positive impact on Total Healthcare.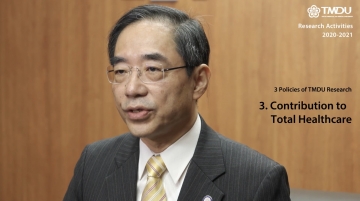 During the COVID-19 outbreak, we have made video clips showing the scope of research activities at our university.
The video clips will be posted on the university website.
We hope you enjoy learning more about TMDU research activities.