PDF Download
Discovering the breast cancer gene and contributing to diagnosis and treatment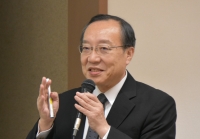 Prof. Miki discovered BRCA1, the gene that causes Hereditary Breast and Ovarian Cancer (HBOC) syndrome.
 After graduating from university, Prof. Miki worked as a surgeon at the Hyogo College of Medicine. In 1989, he moved to the Cancer Institute at Japanese Foundation For Cancer Research (JFCR) and joined an ongoing project to isolate the causative gene behind familial adenomatous polyposis.
 Following that project's success, he became a research fellow at the University of Utah, where, in 1994, he succeeded in isolating BRCA1. He returned to JFCR the following year and has been a professor at TMDU since 2002.
 Following the isolation of BRCA1, a British group discovered BRCA2 in 1995. Today BRCA1/2 testing is used for pre-symptomatic diagnosis and definitive diagnosis of HBOC. Since 2018, TMDU Medical Hospital has offered outpatient treatment of HBOC. Prof. Miki's discovery has contributed enormously to the genomic therapy of breast and ovarian cancer.
 As researchers around the world sought to elucidate the function of BRCA1/2, it was discovered that BRCA1/2, which normally functions to repair DNA double-strand breaks, causes the onset of HBOC when mutated. Following this discovery, drugs have been developed with the strategy of "synthetic lethality," which involves killing cancer cells by inhibiting another DNA-repair function. This therapy is now starting to be adopted worldwide.
 Meanwhile, Prof. Miki continues to promote the elucidation of the function of BRCA1/2 with the aim of advancing diagnosis and treatment of sporadic breast and ovarian cancer. For the future of cancer genome research, he believes it is important to promote cooperation among researchers worldwide so as to share genome databases of various populations and analyze them using artificial intelligence. The differences and universal features that can be found in genomes can help spur understanding and discovery.
 Prof. Miki has also been making great efforts to apply his clinical experience to basic research. He believes that it is not possible to discover new things through reasoning alone. For him, intuition plays an important role in understanding situations that cannot be explained by theory. These are the key factors that have enabled Prof. Miki to achieve his research success.