TMDU International Faculty Development Course -Essential Expertise for Clinical Dentistry for Dental Professionals- (IFDC2017)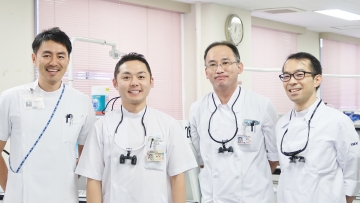 As part of the Project for Promoting Global Dental Education and Research Bases to Southeast Asia, Tokyo Medical and Dental University (TMDU) will offer International Faculty Development Course 2017 (IFDC2017) with the purpose of introducing expertise in clinical dental education at TMDU.

The course for clinical, research and dental education offers you up-to-date dental clinical knowledge and techniques that are often publicized in journals or books. This course aims at not only 1) updating participants' dental clinical knowledge but also 2) developing and brushing up clinical techniques. You will have the chance to actually engage in discussions with your peers and join hands-on clinical focused sessions.

Sessions
Day 1  November 14, 2017
Title
Lecturer
Time
Venue
TMDU Introduction (TMDU Dental Education)
Takashi OKIJI
9:30-9:30
Dental Building South 3rd floor
歯科棟南3階 歯学部大会議室
Lecture: Peridonotal regenerative therapy

Hands-on: Basic training of periodontal surgery

Koji MIZUTANI
9:30-12:00
Building #7 5th floor
7号館5階 保存示説室・実習室
Lecture: Implantology
Shiji KURODA
13:30-16:00
Building #7 6th floor
7号館6階 第4ゼミナール室
Day 2  November 15, 2017
Title
Lecturer
Time
Venue
Lecture & Hands-on: Direct composite restoration
Keiichi HOSAKA
9:30-12:00
Building #7 5th floor
7号館5階 保存示説室・実習室
Lecture & Hands-on: Glass fiber reinforced composite resinpost and core
Wataru KOMADA
13:30-16:00
Building #7 5th floor
7号館5階 保存示説室・実習室
Day 3  November 16, 2017
Title
Lecturer
Time
Venue
Live lecture: Impression with border molding for mandibular complete dentures
Manabu KANAZAWA
9:30-12:00
Dental Building South 3rd floor
歯科棟南3階 小会議室

Prosthodontics clinic
歯学部附属病院3階 義歯外来
International Conference for Dental Education
Noriyuki WAKABAYASHI
13:30-16:00
Building #7 4th floor
7号館4階 歯学科第4講義室
Lecture: IT Simulation 1
Atsuhiro KINOSHITA
16:00-17:00
M&D Tower 4th floor
M&Dタワー4階 情報検索室
Day 4  November 17, 2017
Title
Lecturer
Time
Venue
Lecture: The current stream of implant overdenture
Manabu KANAZAWA
9:30-12:00
Building #7 2nd floor
7号館2階 歯学科第3講義室
Lecuture & Treatment planning: Periodontology
Koji MIZUTANI
13:30-15:30
Building #7 2nd floor
7号館2階 歯学科第3講義室
Lecture: IT Simulation 2
Atsuhiro KINOSHITA
15:30-16:30
M&D Tower 4th floor
M&Dタワー4階 情報検索室
Closing ceremony
16:30
Dental Building South 3rd floor
歯科棟南3階 歯学部大会議室