Essential Expertise for Clinical Dentistry 6.5 (EECD6.5)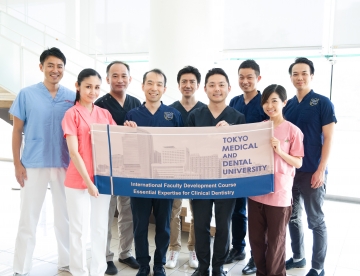 This course offers you the opportunity to discuss and consult your clinical cases with experts in various fields.
Treatment planning is a key for you to have a successful treatment outcome. Complicated cases require us to examine various perspectives; thus you need to have up-to-date dental knowledge and skills.
You will have the chance to actually engage in discussions with the experts from team EECD!

Overview:
This course consists of 2 parts.
In the first phase,
candidates submit the clinical cases to team EECD.
Team EECD selects one (or two) of the challenging cases from among the submissions. One expert from team EECD will be the mentor of that case.
In the second phase,
the selected candidate will have a case presentation, and team EECD will conduct case-based discussions and TMDU graduate school students can participate in the discussion.
In this course, you will:
Learn dental knowledge and perspectives through interactive discussion.
After this course, you will be able to:
Consider your clinical cases from a critical perspective and acquire new approaches for your treatments.
NOTE
Note:
For phase 1

:
team EECD is waiting for your submission between November 16th-20th.
1) Please apply via Microsoft forms below.
and submit
2) 3-page case description by ppt to "kokusai.adm@tmd.ac.jp"
Those who are selected will receive an email by Dec. 2nd from your mentor of that case. Please prepare a presentation of this case with the mentor before phase 2.
In phase 2,
anyone who has graduated from a dental school can join. The maximum enrollment for this phase is 20.
The topics of that day:
- Anterior esthetic & functional restorations
- Endermosis
Please apply between Dec. 7th- 11th via the Microsoft forms below.
Phase 2

will be held on
Dec. 18th, Friday from 18:00 (-19:00), via Zoom meeting
(Detailed information for the zoom meeting will be sent to the participants via email before Dec. 18th)
APPLICATION
For Phase 1:
For Phase 2:
⇒
Here
(Open between Dec. 7-11)