ONLINE TMDU International Faculty Development Course AY2020 for Educators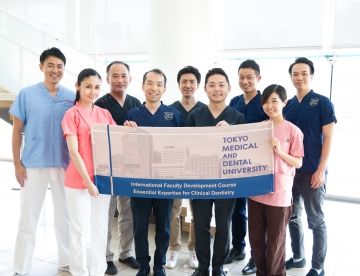 As part of the Project for Promoting Global Dental Education and Research Bases to Southeast Asia, Tokyo Medical and Dental University (TMDU) will offer the International Faculty Development Course (IFDC) with the purpose of introducing expertise in clinical dental education at TMDU and sharing information concerning dental education with those who engage in training dental workforce in Southeast Asia.

The course for clinical, research and dental education offers you up-to-date dental clinical knowledge and techniques that are often publicized in journals or books. This course aims at not only 1) updating participants' dental clinical knowledge but also 2) developing clinical techniques useful for teaching. You will have the chance to actually engage in discussions with your peers and build networks.

IFDC 2020 has been revised, to an online version.
The new version consists of on-demand video lectures and LIVE session via a web conferencing system by Tokyo Medical and Dental University (TMDU).

STYLE:
On-demand video lecture + Live discussion session via a web conferencing system (Zoom)
GOALS OF THIS COURSE:
1. Gain new dental knowledge and new approaches for future education/treatment /research
2. Consider your clinical cases from a critical perspective
3. Exchange information and opinions on Dental Education
CERTIFICATION:
A certificate of completion including hours of study and topics covered will be given to those who attend every assigned session.
COURSE FEE:
JPY 60,000 (Registration fee (JPY 50,000) + Course fee (JPY 10,000))
*Registration fee is a one-time charge that covers all IFDC and EECD courses.
NUMBER OF PARTICIPANTS:
Up to 20
⇒Flyer
Schedule
On-demand lectures and Zoom meeting ID will be provided from Mondays of that week before the week's LIVE session.

In the LIVE session, not only Q&A of the video lectures, but also how to implement the field into the undergraduate education will be introduced.

No.

Title

Lecturer

Date

Time

Style

1

The power of direct composite resin restoration
Drs. HOSAKA Keiichi and HATAYAMA Takashi
Feb. 4, 2021
19:00 JST – 20:00 JST
Live discussion

2

Periodontal health and aesthetics in restorative treatments
Drs. MIZUTANI Koji, MAEKAWA Shogo, and YANO Kosei
Feb. 5, 2021
19:00 JST – 20:00 JST
Live discussion

3

Dental education in Japan
*no on-demand lectures. LIVE session only.
Drs. SEKI Naoko, KANAZAWA Manabu and MIZUTANI Koji
Feb. 12, 2021
19:00 JST – 20:00 JST
Live discussion

4

One day direct denture restorations using hard and soft relining materials (Dr. Kanazawa)
Treatment strategy in Class III malocclusion (Dr. Yonemitsu)
Drs. KANAZAWA Manabu and YONEMITSU Ikuo
Feb. 18, 2021
19:00 JST – 20:00 JST
Live discussion

5

Evaluation for oral function (Dr. Komagamine)
Direct resin core build-up method using custom core form (Dr. Komada)
Drs. KOMAGAMINE Yuriko and KOMADA Wataru
Feb. 19, 2021
19:00 JST – 20:00 JST
Live discussion

6

Virtual tour on Japanese dental material company 1
Drs. KANAZAWA Manabu, MIZUTANI Koji, and HOSAKA Keiichi
Feb. 25, 2021
19:00 JST – 20:00 JST
Live discussion

6

Virtual tour on Japanese dental material company 2
Closing ceremony
Drs. KANAZAWA Manabu, MIZUTANI Koji, and HOSAKA Keiichi
Feb. 26, 2021
19:00 JST – 20:00 JST
Live discussion