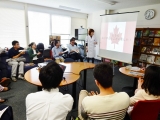 As part of its efforts to deepen international understanding and promote exchanges between TMDU international students and Japanese students, the IGA holds a brown-bag gathering during the lunch break every month.

In "Travelling aroung the World" sessions, international students present about their county in Japanese, while in "Travelling around Japan" session, Japanese students talk about their hometown in English. Then, a question and answer period is conducted in both English and Japanese.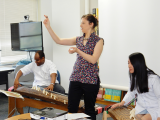 For the purpose of enhancing international and multicultural understanding both within and beyond TMDU community, the IGA plans and offers various kinds of activities and events.

Student Exchange Programs between CU and TMDU