Special Lectures by Prof. Masao Takata
A series of "Special Lectures" was held from October 1st to 3rd, 2018, as one of the Top Global University Projects to encourage TMDU undergraduate and graduate students to pursue global careers. This year we invited Professor Masao Takata from Imperial College London, UK, who is also a TMDU Designated Professor.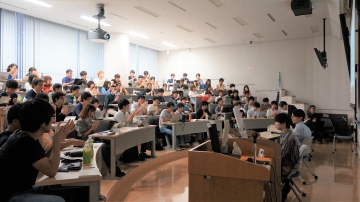 On Tuesday, October 2nd, the Special Lecture"日本の医学部を卒業し、世界を舞台にキャリアを" ("Pursuing a Career Overseas after Studying Medicine in Japan") was held in M&D Tower, for third-year medical students. Two representative students were selected to be in charge of planning and moderating the lecture under the guidance of Junior Associate Professor Kumiko Yamaguchi. Unlike in a typical lecture, questions were accepted using the web-based "Imakiku/Sugukiku" platforms so that students could easily participate via the moderators. Professor Takata answered a variety of questions.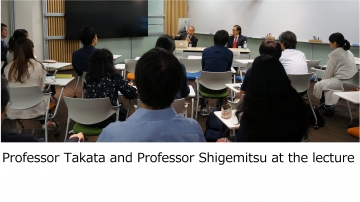 After the Special Lecture for undergraduate students, the Special Lecture for graduate students, "大学院生とのinteractiveな対話による講義" ("A secret key to be globally active") was held in G-Lab, M&D Tower, and moderated by Professor Hidenobu Shigemitsu. Professor Takata responded to questions provided in advance and on site. This Special Lecture was a great experience for all the participants.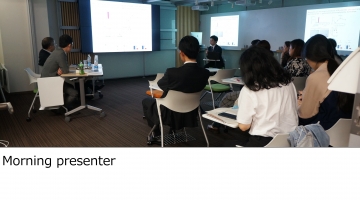 On Wednesday, October 3rd, the Special Lecture "Effective Research Presentations" was held in G-Lab, M&D Tower. Professor Shiroh Iwanaga moderated the morning session, and Professor Ikuko Morio led the afternoon session. Three students presented their research in English in each session, after which Professor Takata gave comments on each presentation in order to help the presenters learn how to make their presentation text more effective and answer questions at international academic conferences.
Based on the questionnaire results from the participants, the Special Lecture appear to have been a major success. Such success indicates that Special Lecture can make a difference in promoting globalization-related efforts at TMDU and providing educational and career-related opportunities to students and faculty.