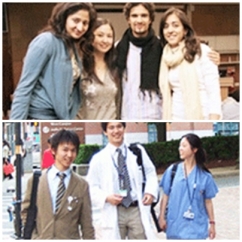 Study Abroad & Exchange Programs
One of the objectives of TMDU is to nurture tomorrow's doctors and scientists who will serve the world as internationally-minded leaders. To fulfill this mission, TMDU offers opportunities for students to study abroad, which will help the students to extend their intellectual horizons and foster global understanding.
Especially, the Exchange Program with Imperial College London and the Harvard Medical School Externship offer an excellent chance for young students to open their minds and expose themselves to the world's most lively and inspiring environments for studying medicine and science.
Exchange Program with Imperial College London
The exchange program between TMDU and Imperial College London was launched in 2004. This program provides students with a chance to gain firsthand experience doing world-class research in the field of biomedical science.
From Tokyo to London
TMDU students who pass through the selection process spend the second semester in their fourth year (from October to March) studying at Imperial College London. They take courses offered as part of the Biomedical Science BSc degree program and undertake a research project. They can engage in stimulating academic activities at one of the most prestigious institutions in the UK . Established in 1907, Imperial College has been a hub of scientific developments. Many famous scientists are associated with the college, including Sir Alexander Fleming, discoverer of penicillin and Nobel Laureate, and 13 other Nobel Laureates and 2 Fields prize winners. TMDU students can interact with world class research groups.

 "In the first half of my stay at Imperial College I took the "surgery and anaesthesia" course, attended basic lectures, and joined group work as one of the Imperial College medics. In the second half I was assigned to a laboratory at one of the teaching hospitals in order to carry out my research project and write a thesis.
  I chose a research theme after an intense discussion with my supervisor. During that time I was also allowed to observe several surgical operations related to the project.There were various benefits that I gained in London: I not only improved my command of English,which is absolutely required in contemporary science and medicine, but I also became more internationally-minded and developed a new perspective on problem-solving. I acquired these strengths through all of the experiences I had during my stay in London. I feel proud that I could achieve some of the educational objectives TMDU set forth for its students and I now feel responsible for further self-advancement.
  While many medical students tend to feel urged to acquire a lot of book knowledge or to become completely absorbed in job training, it was really a precious experience for me to have this challenging opportunity and fulfilling life experience at a prestigious institute like Imperial College London, which I believe will help me pursue my career as a doctor." 

  "During my stay in London , I attended some lectures of Foundation Course with Imperial College students and worked on a project about 'Impact of Ageing on immune system under oxidative/nitrative stress' in Respiratory Sciences laboratory under the supervision of Professor K Ito. Studying in a different culture sometimes made me confused, but I learned a lot about my project and also many other things.I learned from the experience that differences in age or language did not prevent making good human relationships, and also I could see my future and myself by talking with many fellows"
From London to Tokyo
 As partial fulfillment of the BSc degree, some Imperial College students undertake research at TMDU. They stay in Tokyo for twelve weeks from February to May and engage in active research work under the supervision of TMDU faculty. A wide range of laboratory research is available. Located in the very heart of Tokyo , TMDU is an ideal academic institution to experience cutting-edge research and the contemporary culture of Tokyo . Participants can also enjoy social programs and interact with many TMDU students.

  "I worked in the pathology laboratory of Professor Kitagawa for just over 3months in spring time… I arrived having had very little previous laboratory experience and spoke about 4 words of Japanese. From the very moment I stepped off the plane the staff at TMDU greeted me with open arms welcoming me to their country.
  Over the course of three months I researched a project involving angiogenesis in myelodysplastic syndromes using immunohistochemical and polymerase chain reaction techniques and drew some interesting and surprising conclusions.
  During my time in Japan as well as a lot of hard work and study I had some of the most enjoyable times of my life eating all sorts of weird and wonderful meals, skiing in the mountains, bathing in numerous hot springs of course your wonderful shops… Having never been to the Far East TMDU offered me a once in a lifetime opportunity. It was an incredible, eye opening, life changing experience which I will never forget and I am eternally grateful for."  

Piers BOSHIER (2006)
  "My time in Japan has been mostly spent undertaking my research project, investigating the role of microRNAs (a new class of gene regulatory molecules) in gastric carcinogensis. My work was performed in the department of molecular oncology at the Tokyo Medical and Dental University (TMDU) under the expert supervision of Professor Y Yuasa…In addition to my academic work, I have taken time out to visit some of Japan 's most famous places. I was lucky enough to spend three whole days in Kyoto during the height of the cherry blossom season... Throughout my stay in Japan I have tried to immerse myself in the Japanese way of life. Indeed this has mainly involved the early morning squeeze of the Sobu line local and late nights spent working hard in the labs with my fellow colleagues."
Harvard Medical School Externship
  As a part of a recent curriculum reform, TMDU introduced the Harvard Medical School Externship program in 2004. The students who pass the selection go through nine months of preparatory training then take part in clinical clerkships at Harvard Medical School . They stay in Boston for three months and take three, four-week elective clerkship rotations. Harvard Medical School provides exchange students from all over the world with a chance to experience the same clinical training as Harvard students at HMS affiliated teaching hospitals. Working hard with talented and enthusiastic students of HMS and other medical schools all over the world, TMDU students can develop their clinical skills and get a better understanding of the American healthcare system as well as acquire an international way of thinking.
Comments from Participants
Kei SONODA (2006)
"Through the experience of HMI for 3 months, I learned the attitude to see medical service in a wider view. Now I feel that the job of a doctor is nothing else than to enlighten patients, colleagues and myself."
Kana NOSHIRO (2006)
"I felt anew the importance of communication and attitude to respect each other in a medical team in the United States where they have racial diversity. I am using this experience for my training as a resident."
Sayaka OSADA (2005)
"I met many people from various nationalities and learned about diverse views. This experience will help me throughout my career as a medical doctor."
Training Program for HMS Externship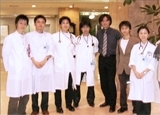 Candidate students for the HMS Externship who pass the first selection process in June spend the subsequent nine months (from July through March) in intensive training. This training program is designed to help the students to develop their skills and knowledge so that they will be able to maximize their learning when they participate in the clinical clerkships at HMS.
  The objectives of this program are for the participants to become able to: take a patient's history and perform a physical examination in various clinical settings; diagnose a crucial problem and present the case accurately; do a differential diagnosis and make a proper assessment; decide on courses of treatment based on clinical evidence; communicate well with colleagues and patients, and assertively act in a clinical team; understand the differences between the US medical and social security systems and those of Japan.
  One unique aspect of this program is "preceptorship". Each candidate student is assigned a preceptor who was a participant in the HMS Externship in the previous year. The role of the preceptor is to support the candidate student, assess his/her development, and give necessary advice.
  Through this nine month training the participants are expected to acquire not only skills and knowledge but also develop appropriate professional attitude and the linguistic fluency that will be required for clinical training in Boston .