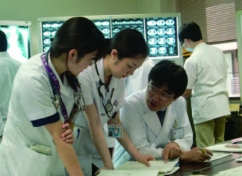 Educating future leaders
Because of the aging of society, medicine, health care, and welfare will be increasingly important in Japan. In line with TMDU's mission statement—"Cultivating professionals with knowledge and humanity"—the School of Medicine's curriculum is designed to train medical professionals with new learning and techniques and in a manner such that they procure a broad education and develop a rich sensitivity.

One of the objectives of TMDU is to nurture tomorrow's doctors and scientists who will serve the world as internationally-minded leaders. To fulfill this mission, TMDU offers opportunities for students to study abroad, which will help the students to extend their intellectual horizons and foster global understanding.
Especially, the Exchange Program with Imperial College London and the Harvard Medical School Externship offer an excellent chance for young students to open their minds and expose themselves to the world's most lively and inspiring environments for studying medicine and science.