Medical Introductory Course

  This course is offered to first year medical students in their second semester. It is designed so they can learn about various aspects of medical service,in addition to clinician or researcher,there by broadening their future career options. Through this introductory course, we encourage students to develop their awareness as a medical student,in addition to cultivating communicative proficiency and problem-solving skills which are required for their future professions.
Project Semester

  From June to November in the fourth year, the students are fully engaged in research activities, taking up to six months. Through which, they are expected to foster their spirit of academic inquiry, which will help them to become clinicians with scientific views. The students may plan their projects in the field they are most interested in and carry out their research not only at TMDU laboratories but also other associated academic institutions, including Imperial College London, Tokyo Institute of Technology, Hitotsubashi University, and Tokyo University of Foreign Studies.
PBL (Problem-Based Learning)

  TMDU has incorporated the problem-based learning approach into its medical education system. The students participate in small-group learning which enables them to understand basic medical concepts through group discussion and investigation,with advice from a tutor where appropriate.
TBL (Team-Based Learning)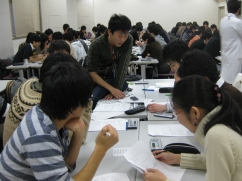 Another new pedagogic strategy, Team-Based Learning, has been adopted in our updated curriculum. In Team-Based Learning, the students attend lectures and are provided with supplemental study materials beforehand. In a TBL class, the students take individual tests to assure that each student has sufficient knowledge on a given topic. Then, they are required to participate in small group discussion to try and solve the problems regarding the topic.
While the students work together, they not only reassure their understanding of the topic but also acquire a more active and collaborative attitude toward learning. Peer feedback and evaluation are also incorporated into these group activities in order to enhance the accountability and strengthen their motivation for learning.
Integrated Curriculum
  An integrative learning approach has been adopted in some courses at TMDU. Instead of lectures on separate subjects, courses have beenre-organized into 15 study blocks, with each block allocated to the study of a disease group relating to one physiological system. In doing so, students can integrate their knowledge and deepen their understanding. The timetable below is an outline of a typical week for the integrated curriculum:
MON

TUE

WED

THU

FRI

8:00-8:45

8:50-10:10

Relevant
Basic
Science

Lecture

Lecture

Liberal Arts

Lecture

10:20-11:40

Lecture

Lecture

Lecture

Ethics
Statistics
Medical English

TBL

11:40-12:40

BREAK

12:40-14:00

Lecture

Case
Discussion
Pathological
Practice
Case
Discussion

TBL

14:10-15:30

Lecture

Lecture

Lecture

TBL
Clinical Clerkship
  Based on the student's acquired knowledge, they start their clinical training in the second semester of the fourth year. TMDU has implemented major reforms in its clinical training program. In its innovative clinical clerkship, the students can have an active clinical experience as a member of the medical staff. The program runs for 20 months and is divided into two parts: an introductory course in the fourth year, and on-site clinical training in the fifth and six years.
Introduction to Clinical Medicine
  In the introductory course, emphasis is placed on the students' understanding of the skills of history taking, physical examination, and clinical reasoning for differential diagnosis. They develop their knowledge and skills through small group training sessions.
Clinical Clerkship
  The main aim of clinical clerkship is to acquire comprehensive understanding of clinical medicine and to develop basic clinical skills and a patient-centered approach toward medicine. The students are also expected to exercise communication skills while they are involved in patient care as active members of the medical team.

  The students first rotate in the core clerkships:internal medicine, surgery, emergency medicine, pediatrics, and obstetrics and gynecology. These are followed by electives which enable the students to acquire more advanced clinical skills. During the electives clerkship the students can participate in externship programs at Harvard Medical School and other institutions.
Physician Scientist Program
  As part of our mission,we think it is important to produce physician scientists who can contribute to the progress of biomedical science. Those who aspire to explore scientific frontiers in their future are required to develop their keen interest in science as well as knowledge and research skills while they are medical students. In order to help realize this, TMDU has implemented a new research training program for undergraduate students. As a double degree program combining undergraduate and postgraduate education, the Physician Scientist Programwas also launched for those students who hope to pursue a career as a scientist in the field of biomedical science.