The Pledge of Tokyo Medical and Dental University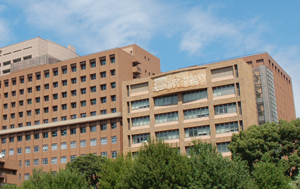 On the top floor of the General Education & Research Building, there are three memorial relief murals.
The middle one is Raffaello's "The School of Athens", which is painted in the Room of the Signatura in the Palace of the Vatican, representing the origin of education through dialogue. On the left are an image of Hippocrates, the father of western medicine, and "The Hippocratic Oath", which is the ethical standards to be sworn by physicians. On the right is a painting by Robert Hinckley, which depicts the world's first public demonstration of general anesthesia by the dentist/surgeon, William Thomas Green Morton in 1846 at Massachusetts General Hospital.
The themes of these relief murals are "education", "research" and "medical service". Following the birth of Graduate School of Medical and Dental Sciences and Graduate School of Health Care Sciences, TMDU has become graduate school-oriented university, and these murals were created to commemorate the day we started our journey toward becoming a global base as we enter the 21st century.
TMDU pledges that we follow the teaching of these wise ancestors and strive to nurture good medical professionals every day.

The relief murals mentioned above are all replicas (1/1.5 part).