A molecular pathomechanism of microcephaly by mutations of PQBP1 gene (2014)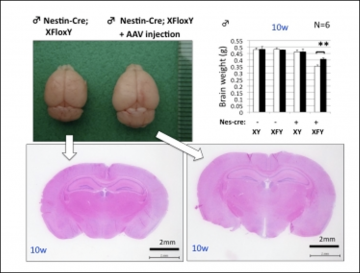 We elucidated a molecular pathomechanism of microcephaly by mutations of PQBP1 (polyglutamine binding protein-1) gene, which is known as a major causative gene for microcephaly. We made a conditional KO mouse which does not express PQBP1 in neural stem progenitor cells (NSPCs). The mouse model showed microcephaly without structural change (primary microcephaly) and a cell cycle time elongation in NSPCs, which is basically mediated by transcription/splicing abnormalities including a number of genes related to the cell cycle regulation such as APC2 and APC4.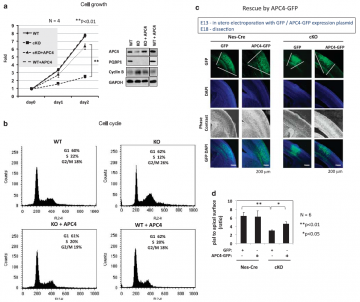 The mice did not showed accelerated production of neurons, increased cell death of NSPCs, or abnormal migration. We confirmed supplementation of APC4 recovered the cell cycle time elongation and NSPCs expansion. Moreover, the research group performed peritoneal injection of adeno-associated virus (AAV) vector into pregnant mice to express PQBP1 in embryos, and confirmed recovery of the microcephaly and behavioral abnormalities of offsprings. This study proposed a new mechanism of primary microcephaly and a treatment strategy.