Institute of Biomaterials and Bioengineering
This is the Official Website for the Institute of Biomaterials and Bioengineering.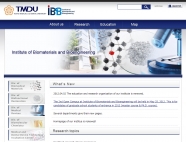 Mission Statement
The Institute of Biomaterials and Bioengineering (IBB) was originally established in 1951 as the Research Institute of Dental Materials with the aim of developing innovative dental devices and materials. After being reorganized into the Institute for Medical and Dental Engineering in 1966, the Institute was given its present name in 1999. In 2012, the IBB took its present shape of having 4 large divisions consisting of 12 departments and the newly opened Medical and Dental Device Technology Incubation Center. Since its establishment, the IBB has been contributing to the development of biomaterials and medical devices as an international forerunner through the harmonizing of engineering and technological science with medical and dental sciences .
 In particular, the IBB has been promoting three objectives in order to expand and deepen the basic science for biomaterials and bioengineering since 2004, when Tokyo Medical and Dental University was reorganized into a national university corporation, leading to the development of applied science and technologies for the adv anced medicine and dentistry:
| | |
| --- | --- |
| 1. | An inquiry into Nano-Bioscience for Advanced Medicine and Dentistry |
| 2. | The creation of Bio-Inspired Biomaterials for New Clinical Applications |
| 3. | The development of Bio-System Engineering for Advanced Medical and Dental Devices |
 While the research environment around us is drastically and rapidly changing, the IBB has been making continuous efforts to take a leading role as an international center of excellence of biomaterials and bioengineering.