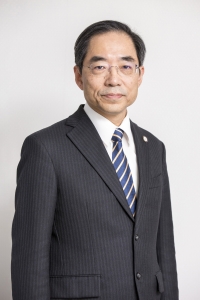 TMDU asks you to support the cultivation of tomorrow's leaders and researchers who will work at the forefront of global medicine and dentistry
As a comprehensive medical university and graduate school, TMDU pursues an educational philosophy with three aims: "to provide students with a broad education and a rich sensibility"; "to educate creative people capable of diagnosing and solving problems independently"; and "to train medical professionals with a rich international quality." TMDU trains physicians, dentists, nurses, clinical laboratory technician, dental hygienists, and dental technicians to meet the needs of society, and is actively promoting educational reform to nurture researchers and leaders who can become frontrunners in the global arena.

TMDU's vision of "Cultivating Professionals with Knowledge and Humanity, thereby Contributing to People's Well-being ," along with the three aims of our educational philosophy, articulates the kind of human resource we aim to cultivate. Under this vision, we have been focusing on efforts for globalization.

TMDU has established the Latin American Collaborative Research Center (LACRC) in Chile (South America) and Ghana-TMDU Center for Research Collaboration on Emerging and Re-emerging Infectious Diseases, at the Noguchi Memorial Institute for Medical Research in Ghana (West Africa), where TMDU dispatches its physicians and researchers to engage in research, education and development of new treatments. It has also opened the CU-TMDU Research and Education Collaboration Center in Thailand to promote academic exchange programs and international medical networking in collaboration with Chulalongkorn University (CU).

TMDU provides its students with the opportunity to do research at these international collaboration centers as well as universities and other overseas research institutions. Financial aid is offered for undergraduate students to enable participation in short-term study abroad programs and for graduate students to support travel and accommodation costs for overseas research and training. Students who study abroad return with a wealth of knowledge and experience. They give presentations before faculty members and fellow students to share the outcomes of their research abroad, which then inspire classmates and juniors to study abroad themselves.

Promotion of this kind of international academic exchange requires enhancement of a sustainable and independent financial base. To meet this need, we founded the Tokyo Medical and Dental University Fund in AY2011 and have been calling for support from various businesses, organizations and individuals.

Based on our commitment to train medical professionals with a rich international quality, TMDU is actively utilizing the Fund to encourage students to study abroad and for other endeavors to become the world's pre-eminent comprehensive medical university and graduate school. TMDU calls for your contributions to our Fund. Thank you.