International Exchange
For global competitiveness and intellectual contribution to the world
Basic Philosophy of International Exchange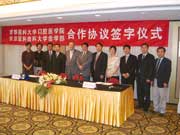 An important part of the mission of our university consists in educating health care professionals with an international perspective and worldclass researchers. In the area of international exchange, the university has set up a goal of responding proactively to the needs from overseas in terms of research, education and service. Faculty of Dentistry, Dental Hospital and Graduate School (dentistry) actively undertake various activities in concordance with the above goals.
Exchange in Research, Education and Service
Since the conclusion of academic cooperation agreement with Seoul National University, College of Dentistry in October, 1983, we have established a cooperative relationship with various partners overseas. While we promote acceptance of resourceful young people from such institutions, we encourage collaborative research projects involving researchers of different specialties. Our international activities are not limited to the academic institutions with which we have concluded an official agreement.

Dental Public Health Training for Southeast Asia 2004
(Nov. 22 to Dec. 24, 2004)
Dental Public Health Training for Southeast Asia was conceived to offer a training program to improve the participants'knowledge and ability in the field of dental public health for the purpose of improving oral health care of people in four countries: Cambodia, Laos, Myanmar, and Vietnam. Training courses conducted outside of Japan based on the cooperation with affiliated universities will become more and more important in the future to transfer Japanese dental education and research to Southeast Asia.
Asia Dental Forum
The Asia Dental Forum was established in January 2003 to develop collaboration and friendship with dental schools in Asia, particularly
those with which TMDU has concluded an academic agreement. The 1st and 2nd ADF seminars were held in Thailand, and the 3rd one took place in the Phillippines. The 4th seminar was held in Hanoi in autumn 2005. In June 2006, the 1st Japan-China Dental Forum was organized in Beijing as part of the Asia Dental Forum.

International Conference for Research Presentation by Dental Student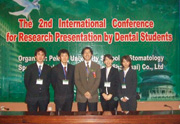 Following the participation in the first ICRPDS held in Thailand in December 2004, four of our 4th-year dental students presented their research in the second ICRPDS in Beijing in February, 2007. Actively engaging in cultural exchange as well as academic exchange, they contributed to deeping the friendship with their counterparts from various countries.
TMDU Study Abroad Program for Undergraduate Students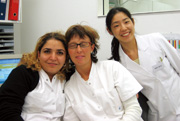 Every year, the scholarship is offered to an selected undergraduate student who wishes to study abroad for 4 to 6 weeks. The student is able to make a study plan with an assistance of faculty advisors. The themes chosen in the past were on dental behavioral science, dentistry for the disabled, and preventive dentistry.
International Students Studying Dentistry at TMDU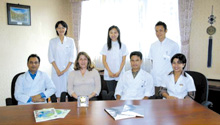 The number of international students has increased about 8 times during the last 25 years. The number of Ph.D. candidates started to increase in the early 1990s, and now stands at more than 80 % of all the international students. Since 1995 we have accepted undergraduate students in School of Dentistry. The fact that the number of students with the Japanese Government Scholarship is greater than that of privately-funded students constitutes one of the features of our international student profile. In the future we expect to accept more privately-funded students with distinguished academic abilities.
Short-term Externship for Overseas Dental Students
We accept several overseas dental students every year on a short-term externship program. Basically, we accept students from dental schools with which we have concluded an agreement for academic and student exchange. Recently, we tend to receive more requests from non-affiliated schools. During their stay at TMDU, Office of International Relations offers our Japanese dental students an opportunity to have contact with their counterparts from abroad.
Office of International Relations (Dentistry)
The Office of International Relations was established in January 1987 with the purpose of supporting international students, international academic exchange, international cooperation in dental service. The chair of the International Committee will serve as a director of the Office with the assistance of foreign students advisors and the General Affaires Section. As an administrative body of the International Committee, the Office is engaged in various activities with a close cooperation with the TMDU International Student Center and sections/divisions of the Faculty, Dental Hospital and Graduate School (Dentistry).