Clinical Skills Laboratories for Dentistry
Director : Professor Kouji Araki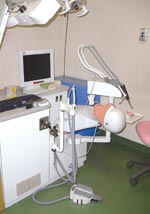 The Center for Education Research in Medicine and Dentistry of TMDU (MD Center)is working on the development of the education program for the maintenance improvement of the medical and dental education level as a national joint use institution. MD Center has established clinical Skills Laboratories on 2005 and verified concretely the practical method of it required for the enhancement of the undergraduate student clinical training and the improvement in clinical skills of the residents. The clinical Skills Laboratory for dentistry is prepared various substantial equipments.
Main machinery
Climsim
DentSim
Operative Microscope
Simple Manikin
The skills laboratory for dentistry in MD Center has prepared various equipments, instruments, and dental materials that are required for many clinical skill training. So student or resident can use freely it without preparing thing. They not only train together with an instructor, but also are able to do preparations for lessons and a review independently.