The Support Program for Distinctive University Education
Establishment of Computer Assisted Education System on Clinical Simulation for Medical and Dental Practice Training.
Director: Professor Atsuhiro Kinoshita
The support program for distinctive university education is the financial support program by Ministry of Education, Culture, Sports, Science and Technology of Japan(MEXT)on selected good practice in higher education facilities in order to activate higher education in Japan. Our practice was chosen one of 47 selected practices in 2005 out of 410 applicants.
Overview:
In order to advance clinical abilities of medical and dental students, we will establish the computer assisted education system using a lot of clinical and materials such as macro photographs, X-ray photographs, CT images, MRI images, operation movies, endoscopy movies, cardiac sounds, breath sounds.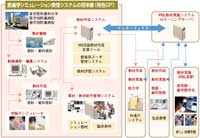 Click>>Large