Cleft lip & palate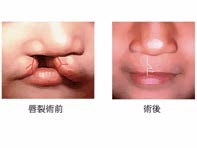 We treat patients in cooperation with the dentists.
Treatment
0~3 months old
In alveolar / palatal cleft patients, we sometimes use palatal plate to guide alveolus and nose in good position before surgery.
3~6 months old
In cleft lip patients, cheiloplasty is done to reconstruct orbicularis oris muscle and make natural shape and function.
Around 1 year 6 months old
In cleft palate patients, a palatoplasty (the push-back method or the Furlow method) is performed.
2~4 years old
Orthodontic treatment and language treatment is going on.
4~6 years old
If necessary, revisional cheiloplasty, or nasal plasty is applied.
6~10 years old
If you have alveolar cleft, secondary bone graft is done. It makes easy to fix teeth alignment. Orthodontic treatment is provided later last time.
After 16 years old
When maxillary growth is poor, even if orthodontic treatment is provided, the mandibular osteotomy or two jaw surgery may be applied.
When the transformation of the nose is left, we perform last revise technique.