CRISPR
What is CRISPR?
Recently Clustered Regularly Interspaced Short Palindromic Repeats (CRISPR) and CRISPR-associated (cas) genes are reported as microbial acquired immunity. CRISPR consists of partially palindromic repeats separated by short variable sequences called spacers. When extrachromosomal genome invades, Cas1 protein recognizes Proto-spacer Adjacent Motif (PAM) sequence and incorporates proto-spacer into CRISPR. CRISPR is transcripted into single transcript called pre-crRNA, which is further processed into small mature ones called crRNAs. crRNAs bind Cas proteins and provide immunity to subsequent phages and plasmids in a sequence-specific manner.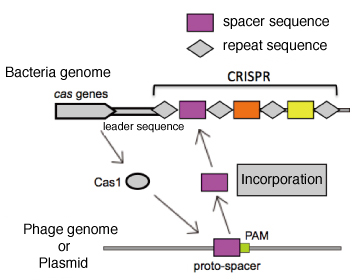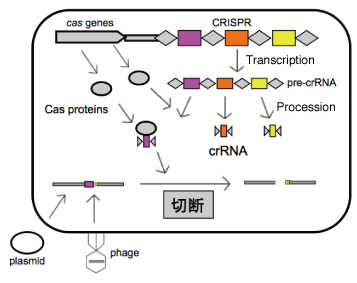 Incorporation of new spacer and elimination of extrachromosomal genome.
Classification
In 2007, Victor Kunin reported that most of CRISPR can be clustered, based on its repeat sequences similarity into 12 groups. 6 kinds of them partially contain parindrome, which contribute to an RNA stem-loop secondary structure. In 2005, Daniel H. Haft reported that 45 kinds of cas genes can be classified into 10 groups and CRISPR/Cas systems are divided into 8 subtype; each subtype contains subtype specific cas genes. But the relation between 12 CRISPR groups and 8 CRISPR/Cas subtype is known little. So we are looking forward to the breakthroughs.


Why we use Group A Streptococcus.
Gram-positive pathogen Group A streptococcus (GAS) is the causative agent of numerous disease such as tonsillitis, pharyngitis and streptococcal toxic-shock like syndrome (STSS). GAS possesses various prophages carrying many virulence genes such as hyaluronidases and super antigens. Therefore the difference of prophages among GAS strains is thought to contribute to the genetic diversity and pathogenicity of GAS. However, GAS also has CRISPR/Cas systems. According to our comparative genomics, GAS has 2 kinds of CRISPR/Cas systems and both of them contribute to the elimination of phages. So we suggest that GAS is a unique bacteria, which can selectively incorporate prophages and evolve. It is not too much to said that researches about CRISPR/Cas systems of GAS will reveal the evolutional strategy of GAS and the novel possibility of CRISPR/Cas systems.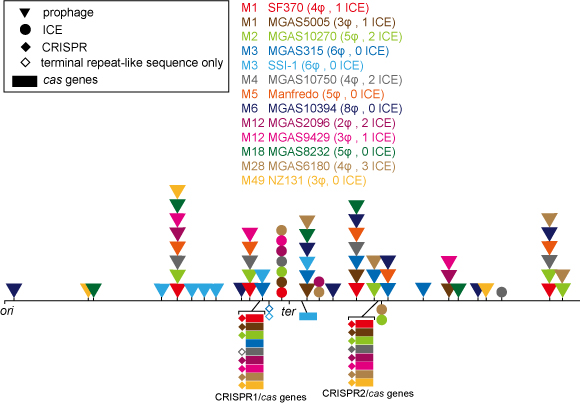 The position of prophages and CRISPR/Cas systems