Research
Pathogenesis and therapies of cerebrovascular diseases
Stroke is a leading cause of serious long-term disability and the fourth leading cause of death in Japan. Though ischemic stroke comprises approximately 60 to 70 % of all stroke cases and is a major concern of the aged society, its only approved effective treatment is intravenous recombinant tissue plasminogen activator (rtPA) administration within 4.5hrs of onset, and endovascular therapy additionally. We have conduced clinical researches for acute ischemic stroke based on our university-affiliated hospitals, and basic research using animal models of stroke for the better understanding of the mechanisms and developing new treatment of ischemic stroke.
① Clinical research
In accordance with our university-affiliated hospitals, we have analyzed the laboratory data, symptoms, and developed novel scoring system to predict paroxysmal atrial fibrillation in acute ischemic stroke patients (Yoshioka K, et al. J Stroke Cerebrovasc Dis 2015;24:2263-2269). We also analyzed MRI data and found that well-developed collateral circulation in hyperacute stage is associated with better outcome after rtPA treatment, which is represented by posterior reversible artery laterality on MR angiography (Ichijo M, et al. Stroke 2013;44:512-515) and hyperintense vessels along the ischemic cortex on fluid-attenuated inversion recovery imaging of MRI (Ichijo M, et al. AJNR 2015;36:1839-1845). Based on these perspectives, we will also collaborate with department of endovascular surgery, in evaluating collateral circulation during endovascular therapy for the better regulation of collaterals in acute ischemic stroke.

② Basic research
We are developing a radical treatment of the ischemic stroke which is a big burden on both families and society. In acute ischemic stroke, tissue that remains alive despite low cerebral blood flow but is at risk progressing into infarction is considered to be "ischemic penumbra" and we think is a major target of the treatment. We use mouse model and in vitro model of acute ischemic stroke and are working on the translational research for the novel therapeutics.
a. Development of neuroprotective therapy by using DNA/RNA heteroduplex oligonucleotide
Cascade of neuronal death during acute ischemic stroke is complex but is recently beginning to be elucidated based on many of the basic researches. However, effective neuroprotective therapy has not been established in spite of lots of clinical trials, presumably because of the problems of drug delivery, differences between species, or the timing of drug administration. We are working on a gene therapy using novel DNA/RNA heteroduplex oligonucleotide (HDO) (also refer to Development of base technology on nucleic acid medicine and its application to neurological disorders) or additionally with antisense oligonucleotide which works specifically on ischemic area, to regulate key genes in the neuronal death, to save penumbral tissue during acute ischemic stroke.
At the moment we successfully delivered HDO into the ischemic brain by intravenous administration (below) and not by intracerebral administration, which is a major progress in drug delivery in ischemic stroke. It effectively works to downregulate the targeted genes.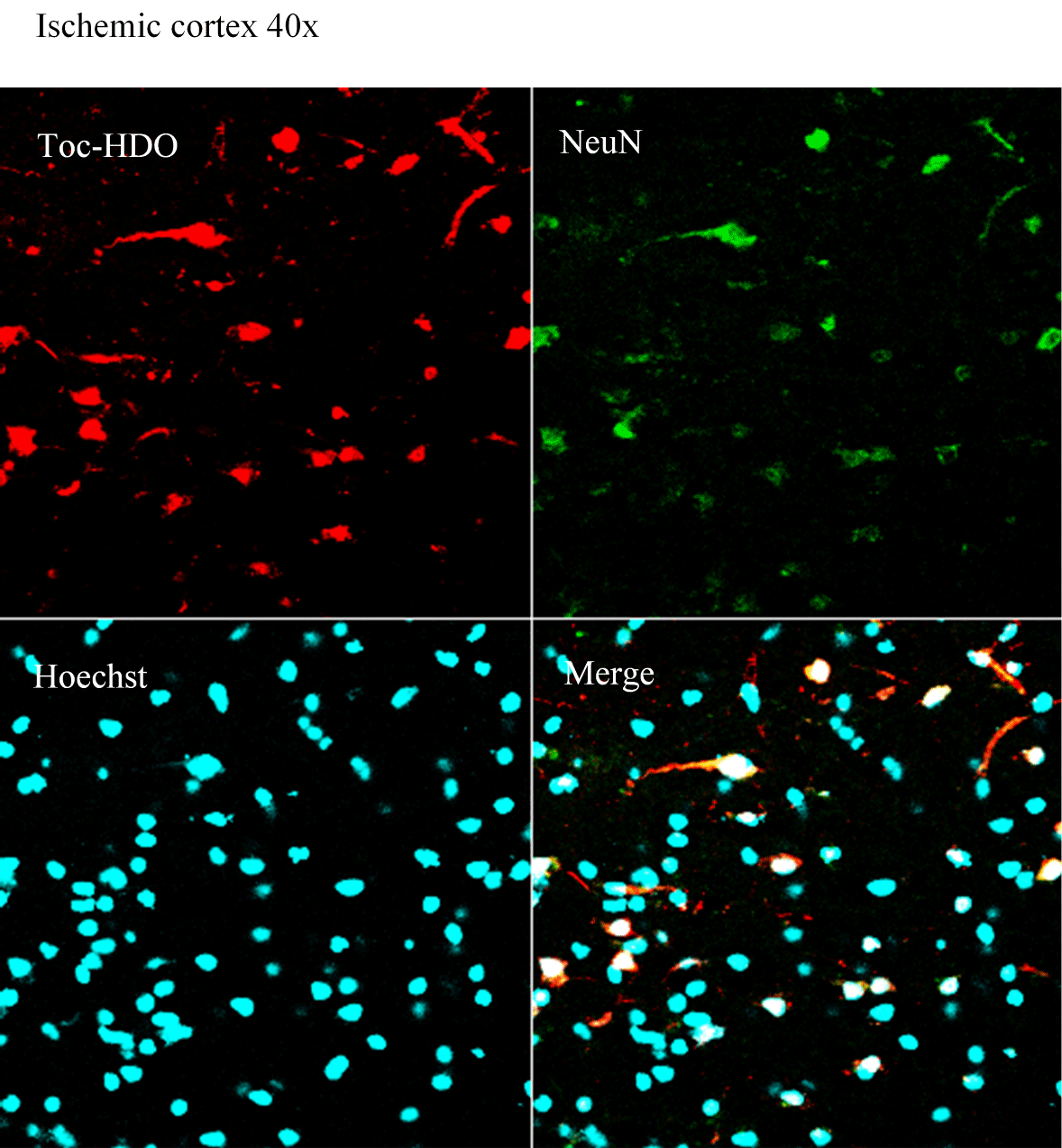 b. Neural and vessel regeneration
We have reported that neural stem cells and mesenchymal stem cells transplantations, or Galectin-1 administration can promote neuroregeneration and neurological improvement in ischemic stroke models (Ishibashi S et al. Stroke 2003, JNR 2004, PNAS 2006, Exp Neurol 2007, JCBFM 2009).
We recently focus on collateral circulation to save penumbral tissue during ischemia, and are specifically working on enhancing leptomeningeal arteries. Sphingosine-1-phosphate receptor 1 (S1PR1) on endothelial cells has been recently reported as a shear-sensing protein, and we reported that regulating S1PR1 can promote leptomeningeal arteries development on mouse cortex under chronic hypoperfusion, and can lead to smaller infarction volume by subsequent ischemic stroke (Ichijo M, et al. PLoS One 2015;10(9):e0138029). We are now trying to regulate angiogenesis and/or arteriogenesis related genes by means of intravenous administration of novel DNA/RNA heteroduplex oligonucleotide.