Research
Biofluid biomarkers for neurological diseases
We have been engaged in research of micro RNA biomarkers for neurological disorders. From 2014 to 2019, we have joined the industrial technology development organization (NEDO) project for biofluid micro RNA biomarker research, and studying micro RNA measurement technology and development of the comprehensive analysis of micro RNA biomarker in various neurological disorders.
Micro RNAs in blood and cerebrospinal fluid are important in neurological disorders, however micro RNAs in cerebrospinal fluid (CSF) show little expression levels for array analysis. Therefore it is great challenge to develop comprehensive and quantitative evaluation methods for micro RNAs in CSF. Our goal is to establish comprehensive analysis method of micro RNAs in CSF as biomarkers of neurological disorders.
We intend to develop new types of small RNA biomarkers other than micro RNAs, such as lncRNAs (long noncoding RNA), circular RNAs (circRNA), using tools such as next generation sequencing (NGS) in the near future.
RNA biomarkers could be useful for diagnosis and treatment of the various neurological conditions such as motor neuron disease, multiple sclerosis, Alzheimer's disease, immune mediated neuropathy, and other neurodegenerative disorders.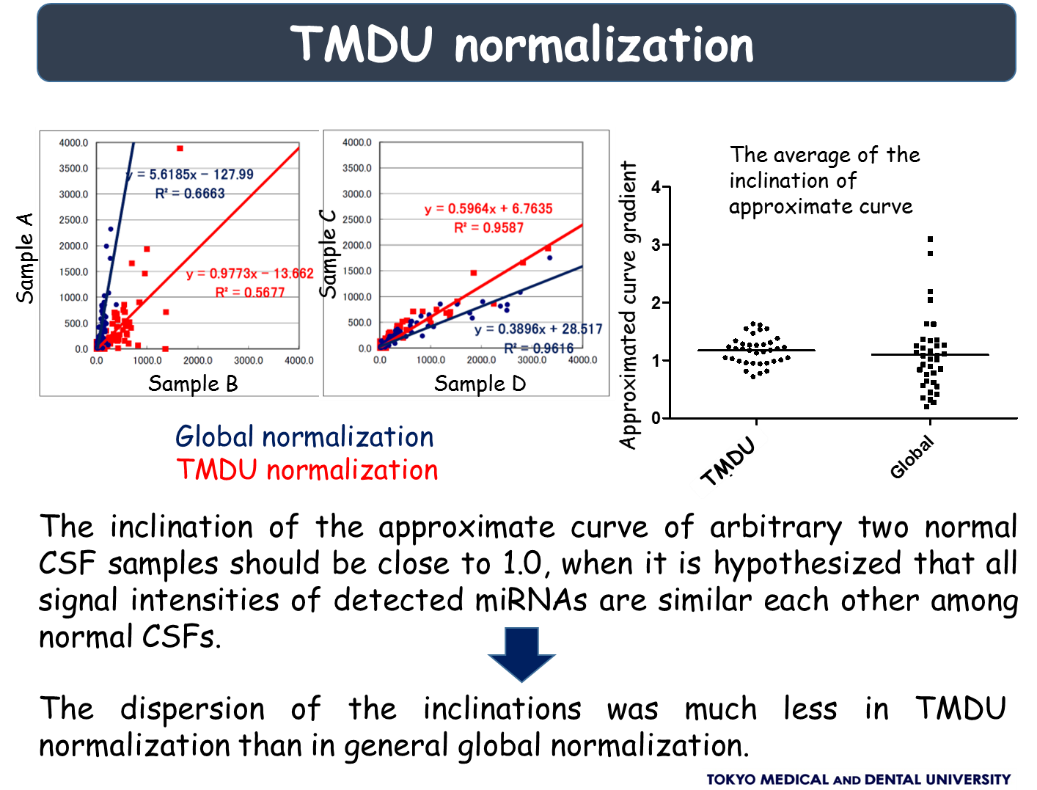 In 2017, we have reported the miRNA expression profiles of CSF and serum exosomal fractions, and demonstrated that there were substantial differences in exosomal miRNA profiles between CSF and serum. We also provide the important evidence that exosomal miRNAs in CSF may reflect brain pathophysiology. (Yagi Y, Ohkubo T, Kawaji H, et al. Neurosci Lett. 2017;636:48-57. doi: 10.1016/j.neulet.2016.10.042.).