Fundamental and scientific Nursing care innovation
Department of Development Study of Fundamental Nursing,
Division of Fundamental and scientific Nursing care innovation,
Graduate School of Health Care Sciences, Tokyo Medical and Dental University
---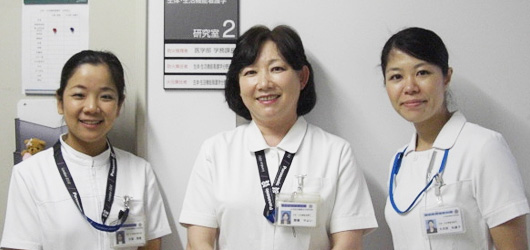 Professor
Yayoi Saito R.N.,Ph.D.

Assistant professor
Rie Daikoku R.N.,Ph.D.

Assistant professor
Chikako Okawara R.N.

In the undergraduate school, our first- and second-year undergraduate students receive a solid education in fundamental nursing studies, and take classes on the fundamentals of nursing, including theory, attitudes and behaviors for specialized professions, and knowledge and skills required for mastery of nursing care used throughout the nursing field. Our third- and fourth-year students who select a thesis project in this field receive diverse forms of instruction based on lecture, seminars, and individual mentoring.

In the graduate school, we place a heavy emphasis on the autonomy of the graduate students, and encourage them to select carefully their own theme for research. We educate on the significance, research plan, and research progress required to complete an academic dissertation, and provide an effective combination of instruction comprising mandatory research seminars as well as individual instruction from faculty members. Graduate students focus on themes such as daily living support skills and risk prevention education, and conduct interventional research in a clinical setting, or basic research in an experimental environment.
Research studies aimed at heightening physiological and daily functioning comprise scientific evaluations of nursing care for daily living activities such as environment, diet, rest/sleep, exercise, and cleanliness. Recently, development of care skills has been initiated in addressing new challenges as well. Testing methods include quasi-experimental research and randomized controlled study, within which objective evaluations utilizing electromyogram, electrocardiogram, near-infrared spectroscopy, and eyemark recording are combined with subjective evaluations based on feelings of and feedback from those who received care. Risk prediction education to prevent medical care-related accidents is being offered as well, and research is conducted to improve and cultivate teaching skills among nurses.
Research Theme
1. Scientific evidence of nursing arts
2. Medical accident prevention
3. Risk prediction training
4. Nursesf occupational development and excellence
5. Foot Care

We are cooperating with Nursing department of University Hospital of Medicine and University Hospital of Dentistry and support their research have joint research.
We also support the research at educational institution and the regional hospital.

[Graduate School of Allied Health Sciences]
[Tokyo Medical and Dental University]
---
1-5-45, Yushima, Bunkyo-ku, Tokyo 113-8510, Japan
Fax: +81-3-5803-5345

Last Updated : 11 August 2010