Research Topics
Research Topics of Department of Organic Biomaterials
In our laboratory, we are developoing novel supramolecular biomaterials based on polyrotaxanes, which are interlocked supramolecular polymers conmrising threading cyclic molecules and a linear polymer. Also, we are studying a variety of biological responses and therapeutic applications of polyrotaxanes.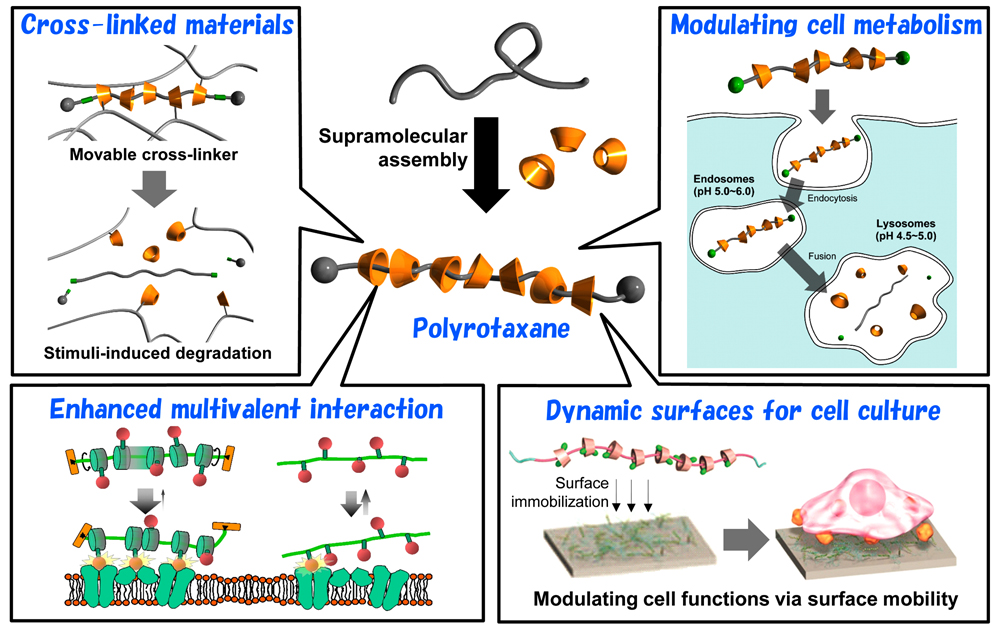 ・Design of Dynamic Biomaterials Surfaces
Biomaterials surfaces with dynamic properties are designed by utilizing a molecularly movable architecture of polyrotaxanes, and examined their effects on a variety of interactions with living body.
・Biocleavable Polyrotaxanes as Therapeutics for Intractable Diseases
Biocleavable polyrotaxanes that release threaded cyclodextrins under intracellular environments are developed for the therapy of various intractable diseases including lysosomal storage disorders.
・Suprarmolecular Polyelectrolyte Complexes of Biomolecules to Induce Enhanced Biological Activities
Supramolecular polyelectrolyte complexes of biomolecules, such as nucleic acid and protein, with polyrotaxanes are designed to enhance stability and biological activities, and their therapeutic efficacies are evaluated in vitro and in vivo.
・Design of Polyrotaxane-based Three-dimensional Architectures for Supramolecular Biomaterials
Polyrotaxane-based three-dimensional architectures such as hydrogels, scaffolds, and resins are developed for biologically active supramolecular biomaterials. The mobility and stimuli-responsively dissociative character of polyrotaxanes are integrated to the three-dimensional architectures to demonstrate novel functions in the Biomaterials.
・Modulation of Cellular Functions by Dynamic Ligand-Polymers
Biologically active ligands are introduced into cyclic molecules in polyrotaxanes, and examined the effects of their movability on multivalent interactions with receptor proteins and the subsequent events including intracellular metabolisms.