ABC2015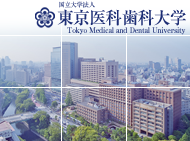 December 9–11, 2015
Tokyo Medical and Dental University, Tokyo, Japan
The ABC2015 is the joint conference of the 15th Asian BioCeramics symposium, the 7th IBB Frontier Symposium, and the 19th Symposium on Ceramics in Medicine, Biology and Biomimetics.
Join us for the ABC2015. Held in Tokyo, Japan, the ABC2015 will provide essential information on the breadth and depth of current bioceramics research. Mark your calendar today and plan to attend ABC2015!
Presentation guidelines --> here.
Science Awards for students
Three kinds of Awards are given to excellent poster presentations conducted by students. The awards are given by the committees of ABC2015, Symposium on Division of Ceramics in Medicine, Biology and Biomimetics, and IBB Frontier symposium.
Proceedings
Proceedings of the ABC2015 will be published in a specially-scheduled issue (Vol. 31) of Phosphorus Research Bulletin.
All the submitted papers will be peer-reviewed.
The page charge is included in the registration fee.
Phosphorus Research Bulletin:
Manuscript should be submitted before the end of 2015, and will be published in early 2016.
Browse the PRB
Information for authors (English)
Information for authors (Japanese)
Submit an abstract, click the below.
Click!! -->

Important Dates
Abstract Submission Deadline — September 30, 2015
Preregistration Deadline — October 31, 2015
SPONSORS